Regions
Coffee plantation in Vietnam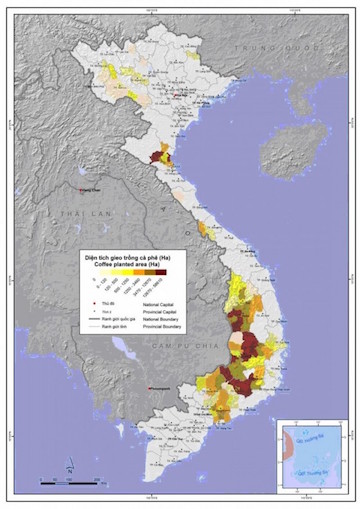 Vietnam is the second largest coffee exporting country in the world and the highest one exporting Robusta. Four provinces planting Robusta are Dak lak, Lam dong, Gia lai and Dak nong covering about 90% total coffee area of the country, which now is about 550,000ha. In the world market, Robusta is commonly worth half of Arabica in term of prices. Different varieties of Arabica amounts for almost 10% of total coffee planting area.
Arabica, mostly Catimor, is about 40,000ha planted in Dien bien, Son la, Quang tri, Lam dong and Kon tum. Unlike Robusta, which greatly grows in lower altitudes and lower sea-level areas, Arabica grows in subtropical and equatorial regions at 1800 feet sea-level and above. As planted in mountainous areas from the North to the Sourth, Arabica coffee is main income of dozens of thousands ethnic minority families, Thai in Dien bien, Son la, Van kieu in Quang tri, Co ho in Lam dong, Xo dang in Kon tum... Although the price is higher, its productivity is just 1/3 of Robusta's make total income from Arabica less. As a result, farmers in Arabica coffee planting areas are still living in poverty.
Oriberry coffee areas
Oriberry works mostly in disadvantage and remote areas where ethnic minority people live. In Dien bien we work with Kinh farmers in Muong Ang district and Thai people in Muong phang commune. While Muong Ang has about 20 years of experience in planting coffee, Muong phang commune is newly plantation area. Just next to Dien bien, we work with Thai farmers planting Arabica Catimor coffee in Chieng Sinh village of Son la city. The Arabica coffee from those provinces brings flavors of the North
In the central of Vietnam, we work with Van kieu ethnic group in Quang tri which is the most difficult area among those planting coffee but contributes the greatest proportion to our final products. Our fully washed Arabica from this area has distinguished nutty and caramelly flavors and it is the best for brewing espresso. Our coffee processing factory in this area achieved UTZ certification in 2008 for 180ha and 200 tons annually.
Down to the South, Oriberry works with K'ho farmers in Lac duong district and other farmers in Cau dat district of Lam dong where the natural conditions are more convenience for the development of old Arabica coffee such as Typica, Bourbon, Caturra, Catuai. Like farmers in Dien bien and Son la, farmers in this areas could produce parchment at household level. We work with them in small groups and contract them to produce coffee inline with our code of conducts. In the central highland, we outsource fully-washed Robusta from a State Company named Eapok and encourage farmers to improve their processing methods.

Region: Dong hy, Thai nguyen
Traditional green tea
100g

Region: Quang tri
Roast: Dark Medium
Nutty, tangy and sweetness

Region: Quang tri
Roast: Dark Medium and Dark
Caramel, nutty, balance flavors
Pages